Visiting Pilots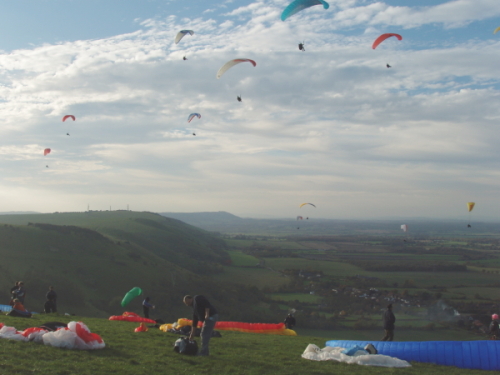 It can get crowded on a good paragliding day!
The Southern Hang Gliding club welcomes visiting pilots from the UK and Overseas, but they must join as temporary members.

Our sites are amongst the busiest in the country. With several hundred members and, compared to many other areas, relatively small sites, we need always to consider our usage in relation to others.

Our sites can get very busy indeed on a good paragliding day, even during the week. On the other hand, if you are a hang glider pilot coming on a stronger day, you will find our sites relatively uncrowded, and there will normally be plenty of room.

Each of our club sites has their own unique characteristics. All visiting pilots must be made aware of local rules and hazards. Read the site guide thoroughly and before flying seek advice on the hill from a club coach or experienced pilot.

All UK resident pilots must be members of the BHPA and also members of an affiliated club. Day membership of the SHGC is available for non-SHGC members (£10.00 payable to a committee member, site marshal or coach). Aternatively, you can pay by PayPal by clicking here.

Visiting overseas pilots may fly as short-term (one week) temporary members of the club for which there is no charge, but must show proof of their national association membership, level of flying competence (IPPI 3 minimum) and third party insurance cover before flying any SHGC site.

We have acquired the use of our sites as a result of many years of patient and delicate negotiation. Our ongoing use of these sites often depends on our ability to demonstrate that our members will continue to comply with conditions agreed with landowners and tenant farmers.